Exclusively to the ever growing community of sports enthusiasts in Hyderabad city we bring an amazing new sports venue. Announcing the launch of "Oxygen Sports Village" a multi sports facility near APPA Juction, Next to ORR in Kismatpur. This one of its kind sports center is the brain child of Mr. Mohmmed Khalid Siddique. After working for over 15 years with companies like GE and Porsche in marketing domain, Mr Khalid decided to live for his passion called Sports.
Oxygen Sports Village is up and running successfully from the day it was launched in last week of February this year. The sports venue is specifically developed in the nature's lap to give you an unique experience. Completely surrounded by trees, nice and cool atmosphere even in day time and there is a nice view of sunset from this place. You can actually see peacocks roaming around in the premises. Situated very close to APPA Junction next to ORR and hence it doesn't take more than 15 minutes to reach here from Gachibowli/Mehdipatnam. It is indeed a nice and cozy sports center where you can have a pickup game of football/gully cricket with your friends or you can plan your next corporate sports activity at this sports venue or may be your next birthday bash to have a sports overdose.
"Oxygen Sports Village" has two mini football grounds (100×55 sq. feet), one circular cricket ground (100 ft. diameter) and a cemented volleyball court.  The flashy parts are the venue has high quality LED flood lights which allows you to play whole night and the natural grass on ground is a luxury for football lovers. The refreshment section never lets you feel hungry, whether it be any corporate match or any sports related team outing. All the necessary amenities like washrooms, changing room and parking makes it a perfect destination for sports.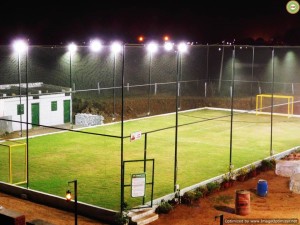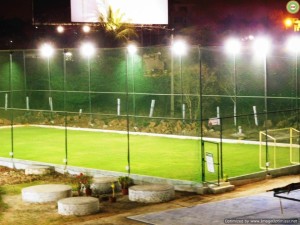 "Box Cricket" comes over to Oxygen sports village; the format is bigger & brighter now. A 100 ft diameter circular cricket ground with natural grass spread all over, an ideal condition for tennis ball cricket, flood lights for the matches to continue until midnight. Not only had this they also have another 100 x 55 sq. feet ground which is available for box cricket. Now this sound interesting, get into the game of gully cricket and cherish the childhood fun of one drop one hand catch out, last man batting and many more.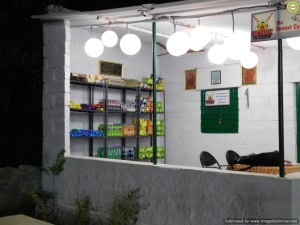 Mr. Khalid insists that it is a passion driven venture and hence the prices are kept at an absolutely affordable level. The booking can be made for hourly slots for as low as Rs 500 during the day and Rs 1000 under flood lights, the pricing is same for all the three courts of cricket and football.
Football lovers looking to have good game or the cricket enthusiast who wants to have go at tennis ball cricket, this is the place to have your sports weekend.
Eat, play, rest….repeat!!
You can book the slots in advance at www.groundwala.in or
You can also reach Mr. Khalid @ 8106035556 for organising any sports event at this venue.
Find more info on oxygensportsvillage